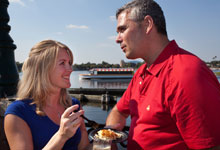 Food and wine lover's paradise awaits you at Epcot with the EpcotInternational Food & Wine Festival, held September 28, 2012 to November 12, 2012!
There's something to satisfy most every taste and interest. In addition to the attractions Guests already enjoy at Epcot, this annual autumn event features a delectable array of offerings, including:
International kiosks featuring tasty tapas and refreshing beverages
Cooking demonstrations and dining events-including experiences with celebrity chefs!
Mixology classes and wine tastings
Live musical performances by popular hit-makers
Enjoy all this—and more—when this annual event returns to Epcot in fall 2012. Dine your way around the world. Cultivate your cooking skills. Savor a rare vintage. Enjoy an exhilarating outdoor concert. Make magical memories to last a lifetime at Epcot International Food & Wine Festival.
Event Tickets: Epcot Theme Park admission is required and some events require additional fees.
Eat to the Beat Concert Series (subject to change)
Night Ranger "Sister Christian"
Sept. 28 – Sept. 30
Sugar Ray "Fly"
Oct. 1 – Oct. 3
Starship starring Mickey Thomas "We Built This City"
Oct. 4 – Oct. 7
Boyz II Men "End of the Road"
Oct. 8 – Oct. 10
New! Smash Mouth "Walking On The Sun"
Oct. 11 – Oct. 12
New! Javier Colon, winner of The Voice "A Drop in The Ocean"
Oct. 13 – Oct. 14
Air Supply "Lost in Love"
Oct 15 – Oct. 17
Gin Blossoms "Hey Jealousy"
Oct. 18 – Oct. 19
Survivor "Eye of the Tiger"
Oct. 20 – Oct. 21
Hanson "Give a Little"
Oct. 22 – Oct. 23
The Pointer Sisters "He's So Shy"
Oct. 24 – Oct. 25
Sister Hazel "All For You"
Oct. 26 – Oct. 28
Billy Ocean "Caribbean Queen"
Oct. 29 – Oct. 31
38 Special "Hold on Loosely"
Nov. 1 – Nov. 2
Howard Jones "No One Is To Blame"
Nov. 3 – Nov. 4
New! Blues Traveler "Run-Around"
Nov. 5 – Nov. 6
New! Dennis DeYoung

, original member of the group STYX "Come Sail Away"

Nov. 7 – Nov. 8
Big Bad Voodoo Daddy "Go Daddy-O"
Nov. 9 – Nov. 12